Monthly Archives:
April 2015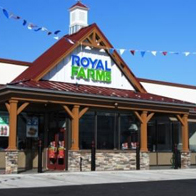 World Famous Fried Chicken, Leadership in Energy and Environmental Design, and a 24-hour convenience retail store chain.  What do these three, seemingly unrelated, items have in common?  The answer is, a huge milestone for Royal Farms, the regional convenience store known for being "Real Fresh. Real Fast. Real Green." 
Today marked the Grand Opening of Royal Farms Store number 137 in Salisbury, Maryland.  Royal Farms 137 will be the 25th store, in a portfolio of over 200 stores to be certified under the Leadership in Energy and Environmental Design (LEED) rating system. 
Royal Farms decided, in 2005, that they would pursue LEED Certification for any eligible building being added to their portfolio.  Since then, Lorax has helped Royal Farms to incorporate LEED compliant features into their basic store layout and construction practices.  Each Royal Farms store incorporates LED lighting throughout the interior and exterior of the building, energy efficient HVAC systems, as well as recycling of waste oil to biodiesel from chicken fryers.
In recognition of 25 LEED Certified stores, we, at Lorax Partnerships, would like congratulate our partners and clients at Royal Farms.