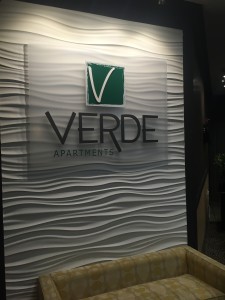 With the help of Lorax's consultation, in late 2014, Verde at Howard Square became the first LEED Platinum apartment building in the State of Maryland. As a wood framed apartment building containing 299 rental units with a 539-car parking garage, many thought this achievement would be impossible. This joint venture between The Dolben Company and Atapco Properties far exceeded everyone's expectations. 
This project was not originally intended to pursue LEED certification.  After investigating the Howard County's High Performance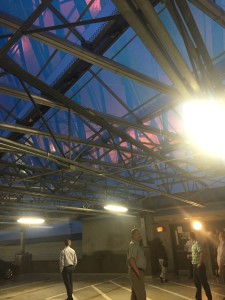 Building Credit, it became clear that the tax credit would offset the additional costs of LEED, making the certification a possibility. The credit is granted against the County Property Tax imposed on the building for five years.  As the LEED achievement increases, the tax incentive increases as well. 
As part of the projects's environmental stewardship goals, the team was interested in the opportunity to add a solar array, which would make LEED Gold a certainty instead of a challenge.  Solar produced a suitable return on investment and currently provides 13% of the total power consumed, tipping the project toward LEED Platinum as a possibility.  Other sustainable features include StormTech technology treating 100% of stormwater on-site, 90.81% diversion of construction waste from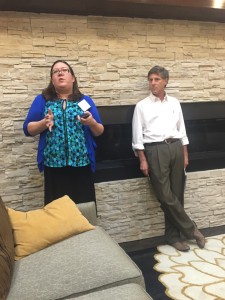 landfills, and 26.65% recycled content.  Every credit was selected carefully and documented flawlessly in order to achieve the final 80 points awarded to reach LEED Platinum.  In this case, the financially and environmentally prudent decision was to pursue LEED. 
On Tuesday, September 29th, as part of a USGBC Maryland Chapter program, Lorax was able to take a tour of Verde at Howard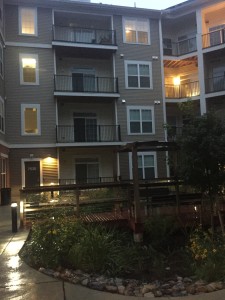 Square in its fully occupied state.  Tenants were enjoying the gym, cars were parked under the solar canopy atop the parking garage, and the courtyard rain garden was collecting rain water.  From a sustainability perspective as well as an occupant happiness standpoint, it was clear from the tour and info session that the project was a soaring success. 
As interest in the business case for LEED projects grow, with Verde at Howard Square as model, Atapco Properties and The Dolben Company are ready to dive into the next phase of the Howard Square property.  The neighboring plot of land is set to be a similar apartment building, targeting LEED Gold and accommodating the growing demand for sustainable luxury apartment buildings. After obtaining Platinum… Continue reading →