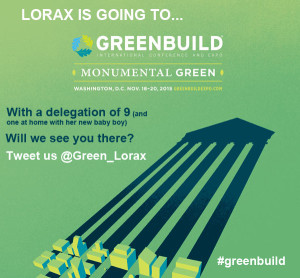 This year, Lorax is taking a delegation of 9 representatives to GreenBuild International Conference and Expo Monumental Green located in Washington, DC.  Lorax Project Managers will be in attendance from Tuesday evening November 17th through Friday November 20th to learn about new sustainable strategies, become familiar with green building technologies, learn from our peers, promote the achievements of our clients, and network with friends both new and old.
We look forward to seeing you there!
Where you can find us:
Opening Plenary
Annual GreenBuild Raters Party
Various Educational Sessions
On the Expo Hall Floor
To join us at GreenBuild, go to http://greenbuildexpo.com/ in order to register for the conference and expo.
Connect with us on social media to find us at the conference!
Like us on Facebook: https://www.facebook.com/LoraxPartnershipsLLC
Follow us on Twitter: https://twitter.com/Green_Lorax
Learn about us on LinkedIn: https://www.linkedin.com/company/lorax-partnerships-llc
Join our Circle: https://plus.google.com/+LoraxPartnershipsLLCBaltimore/about
Check out our Website: http://www.loraxllc.com/