Monthly Archives:
November 2015
With more brains and bodies representing Lorax at this year's GreenBuild International Conference and Expo, Lorax was able to soak up more information and garner more resources than ever before.  While GreenBuild Monumental Green was held just a stone's throw away in our nation's capital, we were also able to promote the achievements of our local clients and network with friends, both new and old.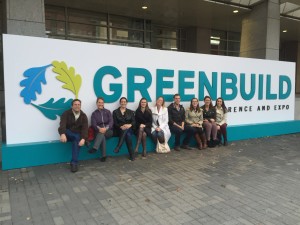 The main thrust of this year's conference was around the rollout of GBCI's partner relationships with new rating systems and certifications like GRESB, PEER, SITES, and WELL.  Lorax took the opportunity to dive deeper into these alternative rating systems in order to better serve the needs of our clients in all sectors of building development, design, construction, and operations.
We learned that Global Real Estate Sustainability Benchmark (GRESB) is a powerful tool used to assess the sustainability performance of real estate portfolios; perfect for our real estate investment trust clients.  With Performance Excellence in Electricity Renewal (PEER) we found that we can support power grids gain competitive advantage by differentiating their performance, documenting the value produced, and demonstrating meaningful outcomes. 
By diving deeper into the Sustainable SITES Initiative, we can help our clients align land development and management with innovative sustainable design in order to distinguish their sustainable landscapes, measure their performance, and elevate their value.  And through the WELL Building Standard we can assist our clients in achieving greater levels of human health and wellness in their building by marrying best practices in design and construction with evidence-based medical and scientific research.
While no GreenBuild is complete without taking a tour around the Expo Hall floor or visiting our favorite reviewers at the GBCI Certification Work Zones and Meet the Expert sessions, the Lorax delegation was able to expand our depth of understanding in LEED and Green Building while also growing our breadth of knowledge in related building standards, rating systems, and certifications this year at GreenBuild.