Monthly Archives:
January 2016
Maryland earned second place in the USGBC annual Top 10 list.
Earlier this month, the US Green Building Council released its annual list of the Top 10 States for LEED; the world's most widely used and recognized green building rating system.  The list ranks states in terms of square feet of LEED space per state resident.  LEED certified buildings use less energy and water resources, save money, reduce carbon emissions, and create a healthier environment for building occupants.
In 2015, Maryland ranked second in the country, an improvement over last year's third, by the US Green Building Council.  Maryland certified 127 projects representing 17,659,881 square feet of real estate, which corresponds to 3.06 LEED certified square feet per resident, in 2015.
"Sustainability is important to our local communities and businesses and Maryland's continued commitment to green building is a testament to that," said Sabrina Harder Bachman, Director of Community – Maryland, USGBC. "We're proud to once again be in this Top 10 list for LEED, and excited to be moving closer to that number one spot."
Some of Lorax's projects certified in 2015 that contribute to Maryland's status in the Top Ten include:
These projects that Lorax helped to certify in 2015 contribute to Lorax's total of 79 projects certified in Maryland to date.  2016 is well on its way to being another great year for LEED certified space in Maryland and for Lorax!  For more information on the ranking, please see the USGBC Press Release.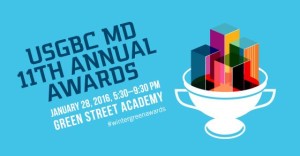 Congratulations to our clients and friends who were selected as finalists for the US Green Building Council Maryland Chapter's 11th Annual Wintergreen Awards!   The Wintergreen Awards Ceremony will be held on January 28, 2016 from 5:30-9:30 pm at Green Street Academy in Baltimore.
We wish to send a special congratulation to 7880 Milestone Parkway for their dedication and commitment to sustainability and green building.  Working with Corporate Office Properties Trust (COPT) on this project has been a pleasure.
Clifton Mansion, home of Civic Works, Baltimore's urban service corps and an AmeriCorps program, is vying for the People's Choice Project Award.  Civic Works builds brighter futures and pathways out of poverty by placing participants in job training opportunities, particularly in weatherization and energy efficiency, construction, and healthcare industries.  The project was able to achieve significant energy savings though a geothermal water source heat pump system and update the building envelope while maintaining the historic integrity of building.
We are studying up for our Wintergreen finals and hope that we pass the sustainability test!
USGBC Maryland's Wintergreen Awards for Excellence in Green Building celebrates projects, businesses, members and partners demonstrating excellence in high performance and healthy building design, environmental stewardship, community impact, and more. Network over great food and drinks with key green building professionals and sustainability supporters in our region!

Winners will be announced at the Awards Ceremony and event attendees will vote for the recipient of our People's Choice Project Award! Details & Registration