A BrightView of Wintergreen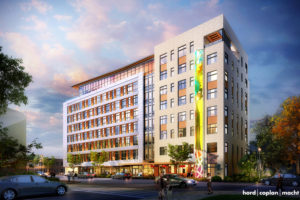 This past Thursday, January 25, 2018, the annual USGBC Maryland Community Wintergreen Awards for Excellence in Green Building was held at Two Merriweather, a new core and Shell office building in downtown Columbia developed by the Howard Hughes Corporation. Wintergreen is always an exciting evening for Lorax; new and sustainable venues to explore, interesting projects to learn from, excellent networking and mingling, and the nervous anticipation of the award ceremony.
Every year, it warms our collective hearts to see our partners and clients honored and feel many of our projects lauded. Congratulations to Century Engineering, Hord Coplan Macht, Southway Builders, Doo Consulting, TCA Architects, Budova Engineering, JP2 Architects, The Bozzuto Group, War Horse Cities, Carroll Engineering, Oak Contracting, Lewis Contractors, RMF Engineering, James Posey Associates, B&R Engineering Services, Skarda & Associates on taking home awards!
One of our most recent projects, Brightview Bethesda, was recognized at the award ceremony as a finalist for the 2017 USGBC Maryland Community Leadership Awards for New Construction projects.
Brightview Bethesda is a 113-unit assisted living community and memory care facility located in the Woodmont Triangle area of Bethesda, Maryland. The community is being integrated seamlessly into the surrounding neighborhood with amenities like a coffee shop, theater, dining room, outdoor courtyard, pub and salon on the ground floor that are open to both residents and neighbors, alike.
Hord Coplan Macht has worked with The Shelter Group for years to build senior living communities throughout the Mid-Atlantic.   Brightview Bethesda is one of the first communities in a new urban model, moving away from more sprawling suburban areas.  This community is located on a tight, urban site and embraces the challenges and limitations of the site. Outdoor amenity areas and green space are located on the roof.  They embraced the challenges of the urban area and encouraged community engagement with community art pieces on the outside of the building.
The design team incorporated a variety of strategies to make this building not only sustainable, but also as healthy as possible for residents and staff.  Every resident apartment and most common spaces have access to daylight and views, which have a variety of health benefits for both seniors and staff.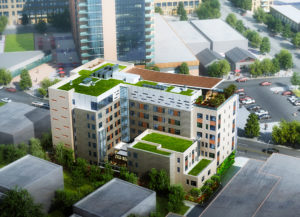 The building has been designed to minimize water and energy use through an efficient VRF system and low flow water fixtures.  The building utilizes a large green roof area for stormwater management, and to help reduce heat island effect. The team also added charging stations for electric vehicles and included bicycle storage and showers for staff and visitors.  The residents have access to an excellent fitness center to encourage a healthy and active lifestyle.
Brightview Bethesda was selected for the AIA Design for Aging Review, 14th edition.  This competition encourages architects to demonstrate innovative solutions to improve the quality of life of residents. Brightview Bethesda was one of 11 projects honored nationally as a Merit and Special Recognition award recipient.
Congratulations to all of the winners at the Wintergreen Awards last week!