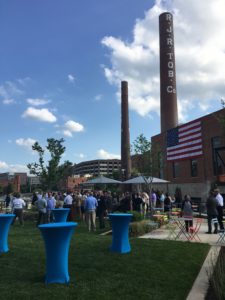 One Million Square Feet of Excellence
When Wexford Science and Technology set out to convert the old RJ Reynolds Tobacco Company Factory into a hub for biomedical research and information technology, no one would have guessed that they would cultivate over 1 million square feet of  LEED Platinum space at the Wake Forest Innovation Quarter.
On May 18, 2017, Lorax joined one of our esteemed clients, Wexford Science + Technology, for a One Million Square Foot extravaganza in Winston-Salem, North Carolina.  This celebration marked the LEED Certification of over 1 Million Square Feet of space in the Wake Forest Innovation Quarter. Team members gathered in the Wake Forest Innovation Quarter, which includes five completed projects and one building currently under development, to commemorate the feat. 
Surrounding a 1.6 acre park, the campus houses a variety of spaces for innovation in biomedical science, technical research, and information technology.  Wexford has worked closely with Wake Forest University to develop the complex into a hub of innovation.
A Celebration Ensues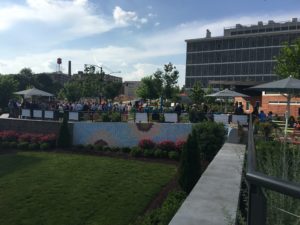 The Million Square Foot Party included hundreds of guests, including team members back to the very first project.  The evening started as guests enjoyed the beautiful weather in Bailey Park, sweeping views of all of the Wake Forest buildings, musical interludes, and even a magician!  Lorax's Neal Fiorelli presented the LEED Platinum plaques for Wake Downtown and The Bowman Gray Center for Medical Education, the most recently certified buildings, on the outdoor stage.  From there, guests moved between courtyards while perusing photos of the incredible building transformations and enjoying a fantastic jazz trio.  After cocktail hour, attendees made their way down the red carpet into the Wake Downtown building for the celebration dinner.  The festivities showcased the incredible building design and sustainability, and boasted some fabulous food, great drinks, and beautiful ice sculptures to complete the scene.  This extraordinary celebration served to recognize the hard work and dedication put forth by the entire project team and the advancement of biomedical science, technical research, and information technology at the Wake Forest Innovation Quarter.
A Bit of Background
The Wake Forest Innovation Quarter consists of five buildings that all achieved LEED Gold or LEED Platinum, totaling 1,066,919 SF.