Young Leaders Tour Ellicott City was also featured on the ULI Baltimore Website.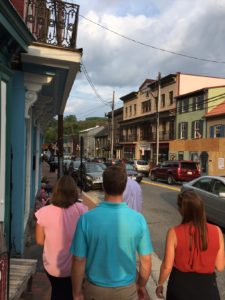 On Thursday, August 31, 2017, the ULI Baltimore Young Leaders met at the Phoenix Emporium on Main Street in Historic Ellicott City to take a walking tour and learn about the revitalization efforts following the devastating flood of 2016.
While at the Phoenix Emporium, representatives from Howard County Economic Development Authority recapped the events of the flooding, the companies and properties that were damaged, and how the community rallied together to rebuild. Impressively, Ellicott City has retained nearly all of the original businesses that were affected by the flood.
Immediately following the flood, Howard County Economic Development Authority asked ULI to assemble a Technical Assistance Panel to consider what the future of the Ellicott City retail district might look like. The two-day TAP convened on January 11th and 12th at Millworks, HCEDA's new business resource center, and co-working space. The speakers summarized the TAP findings.
TAP addressed key strategic questions, such as:  
What does Ellicott City want to be?
What retail mix should it have?
What do we need to do (in the short and medium term) to make that happen?
For ULI Baltimore, the tour of Ellicott City was a different perspective on urban planning and revitalization. Ellicott City's revitalization focuses on historic infill sites and are restricted by geography and existing infrastructure – much different than new construction projects.
After the presentation, the Young Leaders were invited to take a walking tour up and down Main Street to see, first hand, which businesses have returned, what work still needs to be done, and how the community has evolved to be more resilient in the face of future flooding.
While unfortunate, the tour of the flood recovery in Ellicott City was particularly timely with the recent flooding and future recovery of areas like Houston, south Florida, and Puerto Rico. With the success of their recovery, Ellicott City can share lessons learned and strategies for success.