Maryland Earned Seventh Place in the USGBC Annual Top 10 list
In Late January, the US Green Building Council released its annual list of the Top 10 States for LEED; the world's most widely used and recognized green building rating system.  The list ranks states in terms of square feet of LEED space per state resident.  LEED certified buildings use less energy and water resources, save money, reduce carbon emissions, and create a healthier environment for building occupants.
In 2016, Maryland ranked seventh in the country by the US Green Building Council.  Maryland certified 104 projects representing 13,426,623 square feet of real estate, which corresponds to 2.33 LEED certified square feet per resident, in 2016.
"I'm always proud to see Maryland on the list of top 10 states for LEED," said Sabrina Bachman, director of community, USGBC Maryland. "I have the honor of seeing many of our exemplary sustainable building projects first-hand, and it's wonderful for this local work to be recognized nationally, and even globally."
Some of Lorax's projects certified in 2016 that contribute to Maryland's status in the Top Ten include: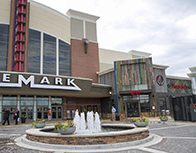 2017 is well on its way to being another great year for LEED certified space in Maryland and for Lorax!  For more information on the ranking, please see the USGBC Press Release.